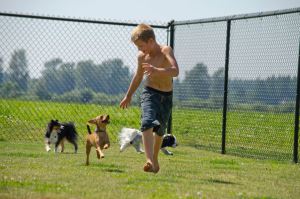 Choosing a safe and comfortable boarding kennel for your pet is an important part of preparing for time away – whether it's for weekend retreats, week-long holidays or longer. At Rover Stay Over we truly care about the safety and well being of all dogs so we want you to be as informed as possible as you are considering a place for your furry kids to stay and play!
We have assembled this list of 7 important things to keep in mind when choosing a dog boarding kennel and put together a downloadable checklist you can take along when touring facilities:
1. Ask your friends, family and neighbors where they board their dogs or if there are any places to stay away from.
2. Call a couple of recommended kennels to schedule a tour; pay attention to whether employees are friendly and welcoming on the phone.
3. Consider the actual boarding facility. Will it be convenient for drop-offs and pick-ups? Is it in a safe location?
4. Are other services available onsite? Can they bathe and groom your dog if needed?
5. Find out how many dogs are typically boarded at the facility. Will your dog be one of many or is the kennel smaller and more personal.
6. Ask if there are connections with local veterinary offices in case your dog gets sick while you are away.
7. Check out the facility carefully. Is it clean and well maintained? Are fenced areas safe and secure?
Feel free to print the handy checklist and take it with you when you tour each boarding facility.