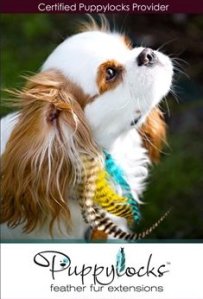 Rover Stay Over is proud to be a Certified Puppylocks Provider.
Puppylocks extensions are natural, handmade feather arrangements that add a splash of color and style to your pet's coat.  They are made with the highest quality feathers and last until you're ready to take them out.
You can use just one Puppylock for a subtle bit of color or use several to create something wild and fun for your dog.
Puppylock feather extensions are show stoppers!  Your dog will be noticed as a trendy pooch when they are out and about. 🙂
Ready to learn more about affordable feather extensions?  Contact Rover Stay Over's grooming salon today for more info and pricing.