Top 5 reasons to board your dog instead of leaving them with a friend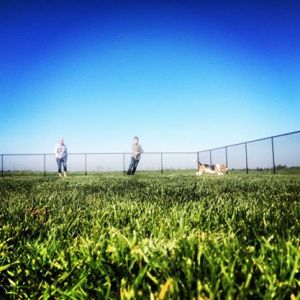 It's getting to be vacation season so people are making travel plans and booking hotel rooms for the summer months. But have you made plans for your dog? If not, now is the time to start doing so.
You may be planning to leave your dog with a friend or family member, but that's not always the best option. Sometimes others aren't used to the responsibilities that come with pet sitting. Even if they are dog owners themselves, watching someone else's dog can be very different (we've had pet sitters bring dogs in that they are supposed to be watching because of escaping issues or excessive barking).
The benefits of vacation boarding.
Vacation boarding has many benefits including peace of mind knowing your dog is taken care of and getting the attention it deserves (without stressing that they're not getting along well in someone else's home).
Here are 5 reasons boarding your dog at a trusted kennel may be better than leaving them with a friend or family member:
You may have a great, fenced-in yard to let Scruffy run around in, but does your friend? If they do have a fence, is it secure? One of the worst things we hear about from friends who watch dogs is when the dog escapes. Talk about panic! At Rover, we have secure fencing around large play areas where dogs can frolic safely without the risk of escape (not even the most clever of escape artists!).
Is your dog a barker? Perhaps your own neighbors are ok with a dog that occasionally gets vocal, but your friend's neighbors may not be so understanding. The last thing any dog owner wants is to cause conflict with other people. At Rover, dogs can bark freely because our kennel is on a large expanse of land where noise does not affect nearby homes.
It is wonderful when a friend or family watches your dog while you are away, but they may be doing it out of obligation, rather than sincere kindness. Instead of putting that responsibility on others, board your pup at a recommended kennel where the employees not only love being around dogs, they actually get joy from it (like us!)
Has a friend ever watched your dog and your canine companion ruined something of theirs? Maybe a leather couch or family heirloom? Who needs the stress of worrying about property damage? When boarding at Rover, your dog can play with other dogs, chew on the toys that you bring (and some that we supply), and not be at risk of causing strife at someone else's home.
How much exercise does your dog need? Is your family member or friend able to give your pup adequate exercise to ensure that they're not only getting out excess energy, but also staying healthy while you're away? Pooches that stay at Rover get play time every day, and lots of it. We're known for "sending them home tired".
Contact Rover Stay Over today to find out more about vacation boarding for Bellingham, Lynden and Whatcom County dogs. We love what we do and work hard to make sure your dog has a fun vacation while you're off having a worry-free holiday.