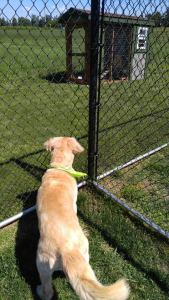 OK, be honest: Raise your hand if
Your dog's name is Houdini
You have good reason to change your dog's name to Houdini
Our furry friends can be amazing escape artists. And while dog owners are often tempted to stand back and be impressed at their four-legged friends' ingenuity and physical ability, a dog that often leaves the yard can be a cause for concern, too.
What if your dog gets hit by a car? What if she burrows into the neighbor's yard? What if his mere presence on the sidewalk is frightening for neighbor children?
You needn't worry about any of this when your dog is spending time at Rover Stay Over. Here's why:
Rover's fences are tall. All of the fences at Rover Stay Over are 6 feet tall, meaning that even the largest dogs would have difficulty making that hurdle.
Rover's fences are sturdy. The heavy-gauge chain link used at Rover Stay Over not only makes them stronger but also less likely to break and cause injury to pups.
Rover's fences are reinforced to discourage digging. A horizontal rail at the bottom of all of Rover's fences discourages digging. A horizontal rail across the top, too, adds extra durability.
Rover's fences are designed to be difficult to climb. There are no horizontal rails in the middle of Rover's fences. This is a purposeful design decision to prevent four-legged climbers from having an easier foothold.
Rover's fences are top quality. Rover pays a 30-percent premium on its fencing to ensure higher quality.
Rover's fences are in great shape. We are constantly repairing and replacing outdoor play yard fencing to ensure that dogs staying on our grounds are as safe and secure as can be.
When it comes to pet comfort and safety, Rover Stay Over strives to be the best in the business. Our staff monitors fences for safety, and checks the exercise yard frequently for diggers. We do our best to ensure your little (or big) Houdini is here to greet you with slobbery kisses upon your return.
Want to learn more? Contact Rover today to schedule a tour of the facility.