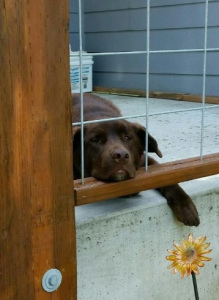 People can get so busy in the summer with school getting out, vacations, family reunions, sporting events and day trips, that sometimes the beloved family pooch can feel the neglect.
When left at home alone, dogs can suffer from boredom and separation anxiety resulting in damaged household items, loud barking, hyper behavior and an overall frazzled canine. That's not good!
Then there's the "accident factor". Puppies and older dogs often need extra care when it comes to the frequency of walks and potty breaks. During busy summer months it can be hard for leash holders to get home often enough for walks and they feel guilty about it. Weekend doggy daycare will help eliminate potty accidents at home. How cool is that?
Some are tempted to leave dogs at home or take them along for the day. Please never leave your dogs in a hot house or car! Drop them off at a doggy daycare that allows interaction with other dogs and lots of exercise.
When it comes time to choose a doggy daycare facility for your furry kid, the ASPCA has advice on what to look for such as: convenient location and hours, knowledgeable staff, well-trained employees and certified trainers/groomers, an up-to-date facility, and safety guidelines and procedures such as playgroup rules.
At Rover Stay Over near Lynden, doggy daycare check-in and check-out times are offered twice daily, including on weekends:
7:00 am – 10:00 am and 4:00 pm – 6:00 pm.
Our office is open extended hours for scheduling kennel visits and grooming sessions. Here's a list of those days/times: https://www.roverstayover.net/boarding/hours/
The benefits of weekend doggy daycare are endless—like the summer we're having in Whatcom County.
Contact Rover Stay Over today to make a reservation! We always send them home dog tired! Phone: 360-306-5931.